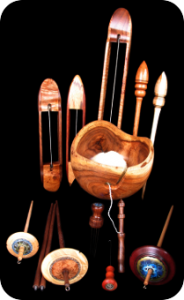 On this site, you will find the wood turnings of Ken Ledbetter, of KCL Woods.  In the past, he has made and sold bowls, hollow vessels, wine bottle stoppers, and pepper mills.  However, for the last 4-5 years, he has strictly made tools for the Fiber Artist.
These tools include Drop Spindles, Shuttles, Yarn Bowls, Russian Spindles, Nostepinnes, Felting Tools and other things.
He uses a variety of woods – especially mesquite from Arizona, Maple from Washington state, and Walnut.
He is also a rock hound and often puts stones inlaid in the top of his Drop Spindles.  Other inlays include Russian lacquered broaches, vintage buttons, shells and anything else round that he finds!
This site is a good representation of Ken's work.  However, not all of our inventory can be shown, as he is making new things all the time.  And not all woods are available here in our area.
If you don't see what you want, please email and tell us.  Maybe we have something like it in our show stock, as we also have inventory we take to Wool Festivals around the western part of the United States.
See our Events section for a list of our shows.  Ken makes many one of a kind things, so if you see something you really like, better buy it before it is gone.  He probably can't make another one just like it.
Of course, satisfaction is always guaranteed.  Enjoy looking around the site.